Conquer Tomorrow
Win the benefits you have earned
$65 Million +
In benefits recovered since 1999
Winning counsel
For national class action lawsuits
EXECUTIVES     EMPLOYEES     FAMILIES
When it seems like everything is on the line, we make sure that insurance companies and retirement plans hold up their end of the bargain.
It's our job to ensure you receive the benefits you've earned, so you and your family can focus on what matters – living your life.
We are ERISA Law and Employee Benefits attorneys. Our clients are executives, employees, and their families who are facing sudden challenges with healthcare, disability income, or retirement security.
You need insurance benefits to come through after a major health event
You're navigating the overwhelming disability or retirement benefits process and you need an advocate.
A family member needs in-patient or residential care and getting coverage seems impossible.
With more than two decades of serving executives, employees, and their families, we understand that you've put in the hard work and now you need the benefits you've earned to show up for you.
We are employee benefits attorneys who will guide you, tell it to you straight, and win the benefits you've earned. Everything we do is centered on effectively and promptly resolving our clients' benefits disputes, whether in the courtroom or at the bargaining table.
Our passionate advocacy and national reputation mean we are able to achieve maximum settlements or judgments in our clients' favor. Securing your financial future through your employee benefits is our top priority, so you can focus on your life and the lives of your loved ones.
We are employee benefits attorneys who work as hard for your family as we would for our own families. We handle a client's case from claim to completion with 100% focus on being responsive to your needs, We provide full representation of participants and beneficiaries under the Employee Retirement Income Security Act (ERISA) of 1974.
J.J. Conway Law has extensive national litigation experience in ERISA benefits and long-term disability claims. We welcome the opportunity to discuss how we may be able to help you.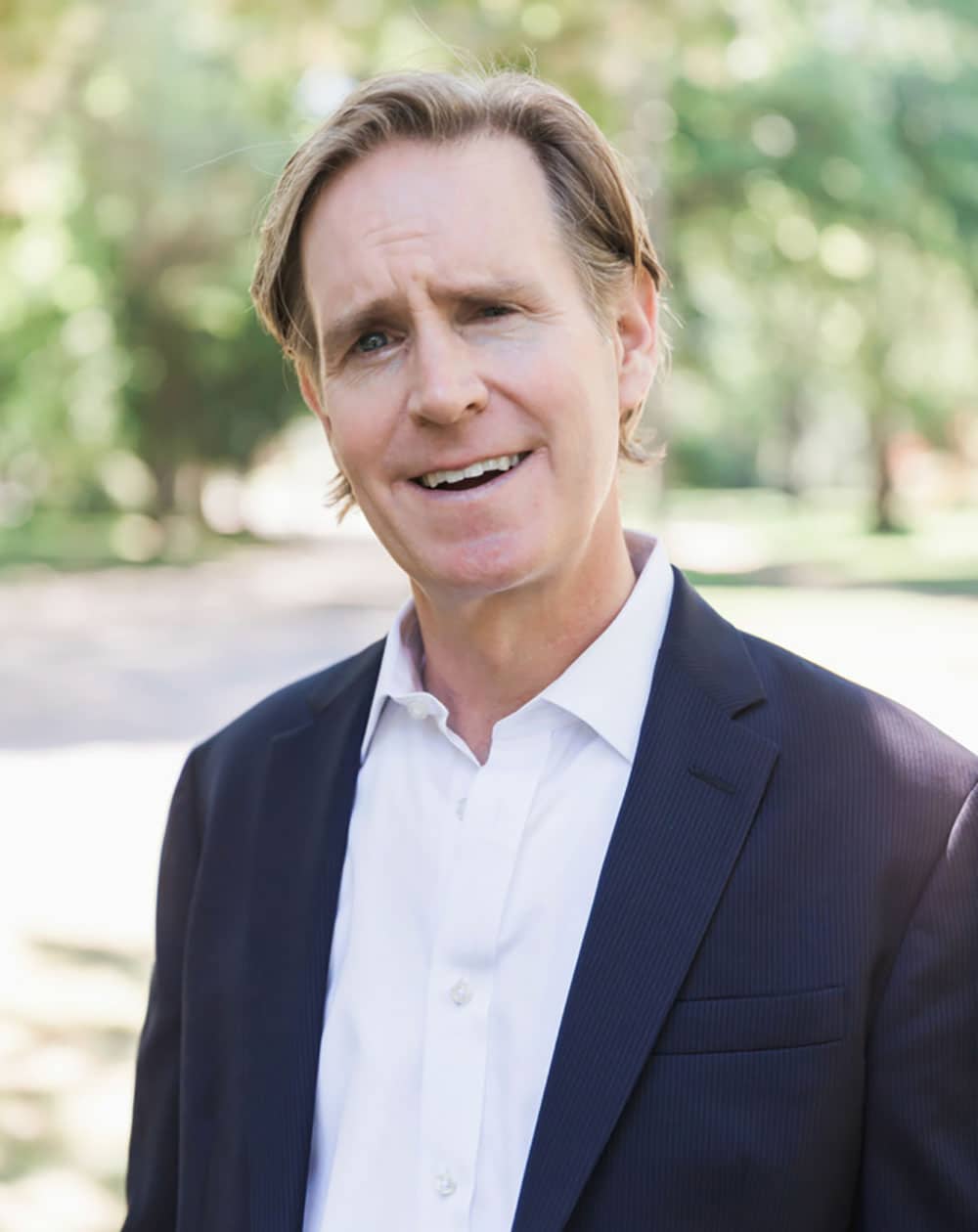 JOHN JOSEPH CONWAY
Principal Attorney & Founder
J.J. is a nationally recognized trial attorney who founded his law firm in 1999 on the principal of advocating for employees who are facing benefits disputes. Over the past 24+ years he has led his clients to recover more than $65M in benefits and won landmark class-action lawsuits in favor of families and retirees.
Lawyers from across the United States regularly refer clients to J.J. Conway. He has published several notable pieces, including one of the top searched documents discussing employee benefits claims: "Hitting You When You Least Expect It: A Basic Guide to ERISA for Non-ERISA Lawyers."
He fights for his clients and leads his team with compassion and strength.
Marquette University, B.A., Journalism
The University of Detroit-Mercy School of Law, J.D., Magna Cum Laude
Member of American Bar Association, Federal Bar Association, State Bar of Michigan and State Bar of Arizona
PAULA CARDWELL
Legal Assistant & Practice Manager
Paula is the first point of contact for many clients. She has nineteen years of experience in the legal field, the last eight focusing on assisting with individual cases and complex litigation. On a day to day basis, she coordinates with the courts throughout the United States and with other law firms on various matters, and attends to administrative duties for the firm.
Paula finds it fulfilling to give clients and families some measure of relief during times that can be stressful and complicated. She is proud of the work that the firm has done and the legal successes they have had for their clients.
B.A. in Psychology at the University of Michigan – Dearborn
"J.J. CONWAY IS AN ATTORNEY THAT HAS THE TALENT, SKILL, COMPASSION, AND THE ABILITY TO COMMUNICATE WITH ANYONE HE MEETS. WHEN I HAD GIVEN UP, J.J. DID NOT. HE IS COMMITTED TO THE RIGHTS OF HIS CLIENTS. I WOULD HIGHLY RECOMMEND HIS LEGAL EXPERTISE TO ANYONE."
"SO GIFTED AND COMMITTED – HE UNDERSTOOD WHAT I WAS GOING THROUGH."
"HIS TALENT AND PASSION ARE SECOND TO NONE."
"IT WAS HIS DEMEANOR AND CONCERN. HE REALLY TOOK OUR CASE TO HEART. YOU COULD TELL HE REALLY CARED."
Legal Experience
In 1999, John Joseph (J.J.) Conway founded his law practice on the belief that the Law should be used strategically to bring about meaningful change within our society. Since then we have:
Recovered more than $65 million in benefits to plan participants, claimants, and retirees throughout the firm's 24+ year history.
Crains Detroit listed one of J.J.'s cases as a top settlement in which he served with a team of attorneys to secure $52 million in funding for Medicaid families to receive essential treatments for children with autism.
Serving as co-lead counsel, J.J. secured major structural and governance reforms to the Detroit General Retirement and Police and Fire Pension Systems , safeguarding the retirement funds of nearly 30,000 retirees and securing a $7.999 million penalty for the Trustees' malfeasance.

Presently, co-lead counsel in multiple class actions throughout the U.S. involving the wrongful denial of employee benefits or other healthcare benefits.
Named co-lead class action counsel for a nationwide class action with a class of 

22,000 military families

 seeking healthcare treatment for children with autism.

Garnered national attention as co-lead counsel in a landmark ruling that benefited children with disabilities by striking down a discriminatory healthcare policy.

Represented hundreds of employees, including physicians, attorneys, investment professionals, who have been deemed occupationally disabled in securing monthly disability benefits from insurance companies.
Additional achievements:

 

In 2021, Michigan Lawyers Weekly recognized J.J. as one of Michigan's "Leaders in the Law".

J.J. was awarded the Thomas P. Moore Leadership in Philanthropy Award, and J.J. was awarded the State Bar of Michigan Champion of Justice Award.
Professional Recognition
"Working with J.J., it is clear that he inspires those around him through his leadership and example to keep reaching higher, climbing the mountains in the profession and their personal lives. We thank J.J. for his continued contributions to the profession and the community."
-Resolution, unanimously adopted by the State Bar of Michigan Board of Commissioners, Dearborn, Michigan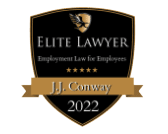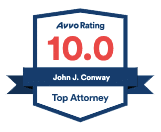 Conway On Benefits: Fighting Against A Screenshot
Attention Turns to Employee Benefits Plans As Mental Healthcare Claims Rise
The Three Pillars of Financial Security Every Employee Benefits Should Offer
Address
J.J. Conway Law
26622 Woodward Avenue, Suite 225
Royal Oak, Michigan 48067
Phone Numbers
Phone: 313.961.6525
Fax: 877.895.6598
E-Mail
HAVE A HEALTHCARE, DISABILITY OR RETIREMENT CASE?
TELL US ABOUT IT:
Please note that by contacting our office you understand that this communication is for informational purposes only. Any legal representation by our office requires a signed written agreement establishing a lawyer-client relationship. Thank you, again, for contacting us.